Jabugo is found in the heart of Sierra de Aracena, a prestigious enclave for the traditional manufacture of products derived from the Iberian pig. In our installations, situated in the most privileged part of this unique place, we have preserved our tradition of cold meats for many years alongside the very most up to date health controls.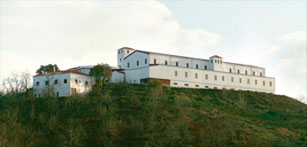 Factory El Huelveño in Jabugo
The process begins on our pastures. Cantos Picadas, El Pico del Castillo, El Barranco de Martín Pérez, La Cañada….are just a few of the many farms which make up the extensive oak woodland where our pigs live, feeding on acorns and grass. The pigs are transported from the pastures to the abattoir in our own vehicles to continue their cycle in the quartering room where our experts carry on with their age-old craft of Jabugo…
Just as with nature, there is no hurry. The hams and other cold meats remain in our cellars until they are perfectly cured. Then the tester with his fine sense of smell confirms and controls the characteristic aroma of our products.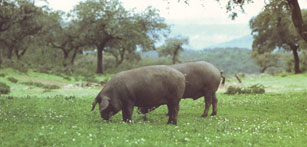 Farms El Huelveño in the Sierra de Huelva, Jabugo
After years of effort we have managed to close the productive circle, so that the farms, transport, abattoir, quartering room, drying sheds, cellars and distribution are all our own, which allows us to guarantee our QUALITY FROM POINT OF ORIGIN.
NATURAL AND HEALTHY
There are many properties attributed to ham. One which stands out is the predominance of monounsaturated fats and in particular, oleic acid with levels above 50%. Therefore, consumed in moderation, it can help to maintain a correct level of cholesterol.
Experts in gastronomy and prestigious chefs have realised the importance of ham in the Mediterranean diet and have incorporated it into many recipes, giving a touch of distinction to their creations.

QUALITY GUARANTEES AND CERTIFICATES
ISO 9001:2000 Certificate, number 23560, drawn up by the company " Global Certification Limited ", obtained on the 2nd of July 2003, including the curing and boning processes of hams, and also their commercialisation.
" Traditional Specialty Guaranteed Serrano Ham Certificate " number DC-JS-05/03 drawn by the Agricultural Certification Company APPLUS.
We belong to the Serrano Ham Foundation since the Year 2004.